DODA recruitment service with top-class size in Japanese industry. We provide a variety of recruitment solutions based on rich know-how.
With leading industrial awareness, we make sure to secure an overwhelming number of applicants. We are able to conduct research on Japanese job seekers working in Vietnam, contact and scout Japanese job seekers and executive human resources in Asia (presidents of local entities, middle management, managers and person-in-charge of company establishment) as well as provide stronger support toward Japanese recruitment in Vietnam.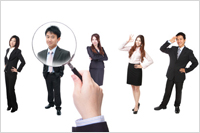 We are handling a wide range of job categories such as Japanese managerial levels, sales, planning, human resources, accounting, secretary and engineer. In addition, we introduce Vietnamese candidates who are proficient in Japanese (N1、N2、N3 level), local and national staffs that meet demands of the client companies. Human resource introduction fees are based on success-fee basis upon completion and we do not require any advanced payment till employment.
Localization and Vietnamese recruitment toward localization
We also introduce Vietnamese management executive, middle management and managerial levels. We are sharing employers' expecting achievements and roles as well as visions of companies in Vietnam to job seekers, providing support toward localization and indigenization which are important to Vietnamese workers retention and corporate growth through unique consulting and follow-up services based on abundant know-how.

We possess staffs who are proficient in Japanese, Vietnamese, English and Chinese. Please use it for handling meeting translation, in-house translation, business translation or sport-related field.

We provide services of designing and introduction of human resource evaluation system (competency, MBO, etc.), preparation of payroll, labor regulations, labor contract drafting and assessment.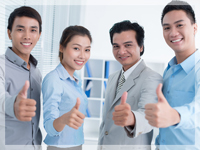 We provide environment and solutions that help person in charge of human resource to focus on his core business. We also deliver recruitment service, recruitment process outsourcing (RPO) and assessment.

We carry out middle-management and management training, manner training for local staffs that meet the demands and needs of our clients.